If you have an emergency, be it fire, medical, or criminal, always dial 911. All of our Department responses to an emergency come from Marion County Dispatch as a result of your 911 call.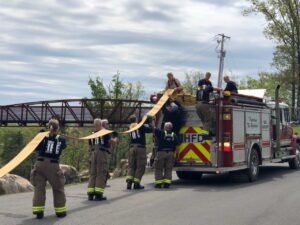 The Jasper Highlands Volunteer Fire Department Auxiliary is a team of residents that support the fire department and serve as your official Welcoming Committee. Their goal is to make you feel welcome, provide you with valuable information, and answer your questions.
Safety First! The Auxiliary's Welcome Packet provided to you includes a VIAL OF LIFE KIT and an EMERGENCY INFORMATION FORM. Both are for your family's safety and to enable maximum aid by emergency first responders. VIAL OF LIFE kits are filled out and kept by homeowners to quickly supply first responders with your medical information in the event of an emergency. To learn more go to https://jhvfda.com/vial-of-life/
EMERGENCY INFORMATION FORMS are filled out by you and kept in the possession of the Fire Department under strict confidentiality in a locked file cabinet. The information helps us provide maximum aid as quickly as possible if necessary. Both forms provide simple instructions for their completion. To learn more or print this form go to https://jhvfda.com/wp-content/uploads/2019/04/Emergency-Information-Form.pdf
You may contact Kris Rector at kcodrector@gmail.com with any questions or to notify the Auxiliary that you are ready for your Welcome Bag with the Vial of Life kit and Emergency Information form.
This month's Firefighter Spotlight is on Rachel Borresen from Chattanooga, TN.
What did you do in your professional life before moving to Jasper Highlands?
I graduated from the University of Tennessee in 1992 as a registered nurse. I specialized in critical care and surgical services during my career. I currently work with physicians in electronic documentation for patients in a 15 hospital region.
What made you want to become a firefighter at this point in your life?
I joined JHFD to give back to this community. I want to learn firefighting and be a part of this team. I hope to share my medical knowledge and experience during medical calls as an EMT for neighbors in Jasper Highlands.
What do you like most about Jasper Highlands Fire Department?
I love how everyone on the team is focuswd on how THEY, with their individual varied professional backgrounds, want to contribute to constantly improve the strength of the Jasper Highlands Fire Department.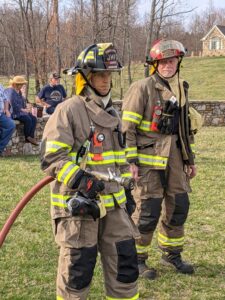 Recent ongoing training included a 4 hour exercise in the planning and execution of fighting a commercial structure fire with the employment of 16 firefighters, 2 fire engines, 1 fire hydrant and all associated fire apparatus. The exercise focused on Incident Command and coordination of mutual aid resources from the across the Valley.
If you would like to join this exceptional team, please contact Assistant Chief, Rich Hahn at 1-908-812-2046. Thanks!
RD Johnson
Firefighter