If you have an emergency, be it fire, medical, or criminal, always dial 911. All of our Department responses to an emergency come from Marion County Dispatch as a result of your 911 call.
Fire Prevention Week for 2020 is October 4-10.  This year's theme is "Cooking Up Fire Safety in the Kitchen"…very appropriate for our new homes.  Cooking is the #1 cause of home fires and home injuries.  Unattended cooking is the leading cause of fires in the kitchen.  Scald burns are the second leading cause of burn injuries.  Hot liquids from coffee and even microwaved soup can be extremely dangerous.  Please stay focused on the food you are cooking and keep your cooking areas clear and free of clutter.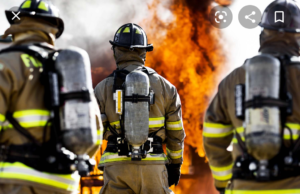 The Fire Department and the Fire Department Auxiliary have planned several events to educate the community about fire safety and prevention.  On October 1st Top of the Rock hosted a Meet and Greet Your Local Firemen.  It was a fun event, well attended, and very educational.  Top of the Rock, as usual provided great food and beverage!  On October 10th, from 10am to noon, The Fire Department will present LT. Richard Hahn to discuss EMS capabilities and procedures in the event of a medical emergency on the Mountain at the Fire House.  You don't want to miss this!
In addition to that we are kicking off our Fall fund raising event…a raffle to win a beautiful new Big Green Egg Barbecue Grill.  Tickets are $10 each; buy 5 and get one free, buy 10 and get two free!  Drawing will be held at the Christmas Dinner Potluck.  Please buy tickets for family and friends!  The Big Green Egg is the finest grill money can buy!  Tower Bank and the Lodge Factory are sponsoring this event.
This month's Firefighter Spotlight is on Michael Durfee from Massachusetts.
What did you do in your professional life before moving to Jasper Highlands?
 
I was a National Park Ranger and Wildland and Structural Firefighter.  I worked at Boston National Historic Park, Yellowstone, Yosemite, Natchez Trace Parkway, and Pinnacles National Park.  I transferred to the US Fish and Wildlife Service, near Sacramento and became a Wildland Fire and Resource Manager.  I retired in 2019.
What made you want to become a Firefighter, again, at this stage of your life?
 
I still have some good years and 35 years of experience as a Firefighter.  I wanted to continue serving our Community and pass on my years of training and experience to help those who also want to safely serve our Community.
What do you like most about Jasper Highlands Fire Department?
 
I enjoy the great group of people who have the desire to also serve.  For most of us, this is a new experience and I enjoy the dedication all the members have, to learn and make the Department one to be proud of.  I'm looking forward to passing on my experience and expand my skills to be an effective member.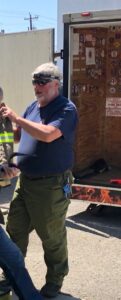 Master wood craftsman, Mike Kline of Atlanta, GA and brother Steve Kline of RB50, donated this gorgeous wooden flag to JHFD in remembrance of 9-11.  We are honored, and grateful. It will be displayed prominently in the Hall.  Thank you guys!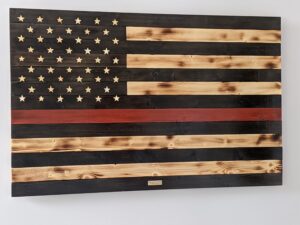 When purchasing merchandise on the internet, please consider using AmazonSmile.com!  Amazon will donate .5% of your purchase price to our Department at no additional cost to you.  During signup simply type Jasper Highlands Volunteer Fire Department, location: Union Grove, AL as that is where our Finance Department is located.  This will help us buy firefighting equipment we desperately need!
If you are interested in joining our team, call our local boss, Cliff at 423-309-2842. Thanks!
RD Johnson
Firefighter