If you have an emergency, be it fire, medical, or criminal, always dial 911. All of our Department responses to an emergency come from Marion County Dispatch as a result of your 911 call.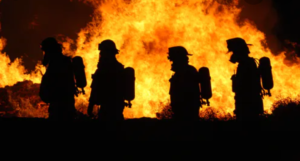 We are offering gorgeous, handcrafted, wooden American Flags (48'x30"), perfect for your new home or patio. These flags retail for $500. on the internet. We are offering these flags for the flat fee of $250. For every flag purchased, our craftsman will donate $30. to the Jasper Highlands Fire Department! Contact RD Johnson to place your order at 913-775-3138 or RDJohnson456@gmail.com.
This month's Firefighter Spotlight is on Jeff Wolf from Delaware.
What did you do in your professional life before moving to Jasper Highlands? 
I was in Banking and Pharmaceuticals for over 35 years with different roles including information management, sales, marketing, and global commercial operations.
What made you want to become a Firefighter at this stage of your life?
While busy with my business career and family commitments through the years, I never had the opportunity to give back and serve in a bigger way. JHFD provided a chance serve the community, learn new skills, and help deliver our mission of "Neighbors Helping Neighbors"! I am looking forward to further developing my skills as a Firefighter in Jasper Highlands for many years to come!
What do you like most about Jasper Highlands Fire Department?  
We have an incredible team of dedicated volunteers, with a diverse set of backgrounds and experiences. Our team has exceptional camaraderie and everyone is a pleasure to work with.  I am inspired by the vision of Chief Hardin and our officers. Our vision is to be one of the best volunteer fire departments in Tennessee and I am proud to be part of it!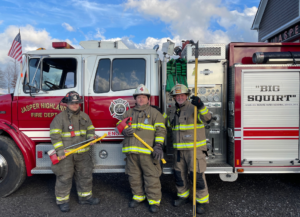 When purchasing merchandise on the Internet, please consider using AmazonSmile.com! Amazon will donate .5% of your purchase price to our Department at no additional cost to you. During signup simply type Jasper Highlands Volunteer Fire Department, location: Union Grove, AL as that is where our Finance Department is located. This will help us buy firefighting equipment we need to better protect you and your home!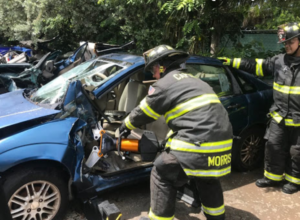 We would like to thank Tate's Wrecker Service and Cooper's Wrecker Service, from Jasper, TN for loaning and towing a disabled vehicle up the Mountain for us to cut up during our recent Vehicle Extrication Class.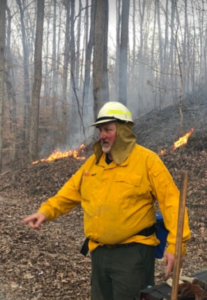 March was a busy month for the JHFD. We were actively involved in a lengthy nearby forest fire on Orme Mountain near South Pittsburg in a mutual aid call on March 7 along with the Tennessee Department of Forestry and 5 other fire departments from the Valley. The fire was caused by a broken power line about 3pm and was ultimately extinguished about 10pm that night. On March 14, JHFD was called to a vehicle fire near the Jasper Highlands front gate. The fire was promptly extinguished by our firefighters using Engine #1. There were no injuries, but the vehicle was destroyed.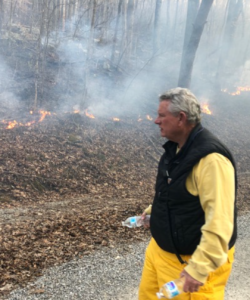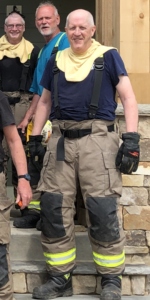 We would like recognize and congratulate Firefighter Steve Summers on his successful completion of the State of Tennessee Fire Inspector Course. This is the culmination of over a year of intensive study, practical exercises, and HAZ-MAT training. Steve will be the first and only Fire Inspector in Marion County to represent the State Fire Marshal. Steve brings great credit to the Jasper Highlands Fire Department. Steve is a retired U.S. Naval Officer.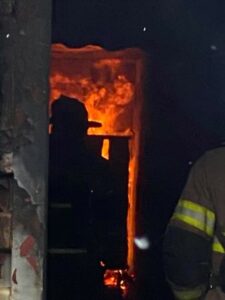 JHFD may be one of the most progressive Fire Departments in the State. As Jasper Highlands continues to grow, so does our Fire Department. We are always looking for new team members, especially with the construction of Fire Station #2 out near Jasper Farms. Our Firefighters come from all walks of life…CEO's, Sales Managers, Bankers, Teachers, Retired Military, Electronic Technicians, Maintenance Supervisors, Registered Nurses, Construction Workers, Musicians, Insurance Industry Professionals, Forestry Professionals, Retired Firefighters, Police Officers and the list goes on. If you would like to join our exciting group that is dedicated to protecting this Mountain, please contact Chief Lowell Hardin at PH. 256-529-1658. Thanks and be safe!
If you would like to join this exceptional team, please contact Assistant Chief, Rich Hahn at 1-908-812-2046. Thanks!
RD Johnson
Firefighter