Fire Extinguishers Initiative
The Auxiliary's goal is to have at least one extinguisher in every home in Jasper Highlands.  Purchasing a fire extinguisher is one of the best home safety investments you can make.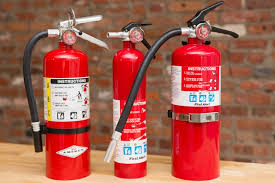 The Auxiliary conducts several fire extinguisher sales each year.  We sell quality extinguishers from Tennessee Fire Equipment.  The extinguishers cost $44 (2.5 lb) and $50 (5.0 lb).  The Auxiliary earns a small donation per extinguisher sold.
Watch the Special Events page and Firehouse Calendar for the date of our next sale.  If you missed a sale, but are interested in purchasing an extinguisher, contact Pat Clancy at rpclancee@hotmail.com.
The Auxiliary sells Dry Chemical ABC fire extinguishers (see Buyer's Guide).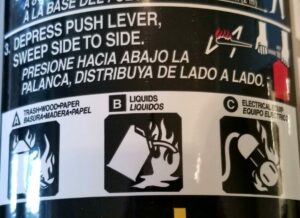 The best home safety investment you can make is buying that $10 smoke alarm.  The second best could be purchasing a fire extinguisher, provided you know what type, when, and how to use it.
Types of Fire
For a fire to start, there must be fuel, oxygen, and a source of ignition (spark, flame, or heat source).  All fire extinguishers work to remove one of those items from the equation, but they work in different ways to do that.
Fires are divided into classes based on fuel type:
Class A:  Solids (wood, paper, plastic, textiles)
Class B:  Flammable liquids (oil, gas, grease and paint)
Class C:  Electrical equipment (appliances, outlets)
Class D:  Flammable metals (magnesium, titanium)
Class K:  Cooking oil (grease, animal or vegetable fats)
Types of Extinguishers
Different extinguishers use different chemical agents to fight fires.  It is important to think about the type of fire you might have in order to have the right extinguisher to fight it.
Dry Chemical (DC) Extinguishers are labeled ABC or BC to indicate which types of fires they can be used on.  Most residential extinguishers use dry chemicals and are classified ABC.  Some can be refilled and reused; others are one-time use.
Other types of extinguishers use air-pressurized water, foam, or carbon dioxide non-flammable gas.  Check the label to ensure the extinguisher is effective in fighting the type of fire you might have.
Unfortunately, dry chemical fire extinguishers leave a powdery mess behind.  Small, one-time-use aerosols are available which use a water-based biodegradable spray, making cleanup much easier.  They are nice for additional protection in a car or boat, but aren't meant to replace traditional, larger extinguishers.
Storage and Use
Fire extinguishers typically withstand temperatures only up to 120° so never store them near a fireplace or oven.  It is best to store them near an exit.  Children should never operate a fire extinguisher, so if mounting on a wall, place at least 5 feet above the floor.
It is recommended that use of a portable fire extinguisher only be used after all family members and pets have been evacuated, and the fire department has been called.  Identify an evacuation path, and do not allow the smoke, fire, or heat to come between you and the exit.  
Discharge the extinguisher using the P.A.S.S. technique:
AIM…Aim low, pointing at the base of the fire.
SQUEEZE…Squeeze the handle.
SWEEP…Sweep from side to side at the base of the fire.
Finally, evacuate immediately if the fire progresses past the ignition stage.