Brothers Helping Brothers: A Message from Lowell Hardin
Since February, 2016, the Jasper Highlands Fire Department has grown by leaps and bounds.  From our beginning, with a loaned truck, air packs, and basic necessities, our department has exceeded expectations.  With our current active membership of 21, 20 of those are certified as Basic Firefighters.  We have one paramedic, three EMTs, one EMR, an EMS response vehicle, and EMS go-bags and AEDs on every apparatus.  We also have two Class A engines, a brush truck, and an ATV for off-road response.  We have a certified wild land fire instructor, and personnel actively pursuing Fire Inspector I and fire education certification.  We currently maintain a ISO rating of 4/4x.
As we move forward, we have to plan for the future.  Early in the development of our department, we obtained used self-contained breathing apparatus (SCBA).  These are utilized to enter burning structures to effectively extinguish.  Based on National Fire Protection Association standards, SCBA must be replaced every 15 years.
Due to the age of our units, we started looking at replacement options, including grant funding.  A requested grant was not awarded in 2019 and we re-applied in 2020.  We also starting investigating other options.
James Wessel, our president, connected me with Fall's Church Fire Department in Falls Church, VA a few weeks ago.  They had SCBAs they were planning to sell.  Their packs were Scott, which is the same brand as ours.  This created excitement, as our training would be minimal.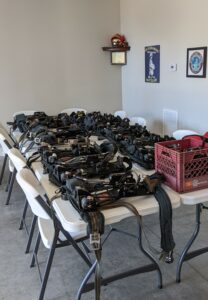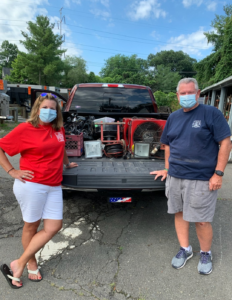 After several conversations, their chief contacted me and said that the fire department and the City of Falls Church had made the decision to donate 17 SCBA to our department.  These units have several years of life and appeared to have very low usage.  Their only request was for our department to cover the shipping.  I discussed with Dave Harp, one of our active FF and Aux President, and he volunteered to drive to Falls Church and obtain these units.  Julie, his wife, accompanied him on the drive.  When he returned, he had 17 SCBA, and approximately 50 regulators and SCBA masks.  He also had three high-pressure electric exhaust fans.  Although the SCBA did not contain the air cylinders, this decreased our departmental costs from $85,000 to $25,500 and increased our number of air packs from 12 to 17.  This also allowed us to reach our goal of issuing individual masks to each active firefighter to prevent cross contamination. 
We are greatly humbled by this generous donation by the Falls Church Fire Department and the City of Falls Church.  This exemplifies the brotherhood of firefighting slogan "Brothers Helping Brothers."
We are actively working to raise the funding for the air cylinders so we can place our "new" air packs in service.
Thanks again to Chief Brendan Meehan and the Fall's Church teams for their generous donation.
Lowell Hardin, RN, MSN, NRP, NDHP-BC, Chief
Japer Highlands Fire Department