Help Protect Our Mountain
Many, if not most of JH residents are coming from large metropolitan areas throughout the U.S. that are serviced by full time career municipal fire departments.  Many of us don't think about fire protection as, "it is always there."  However, it may be surprising to note that 70% of the U.S. is serviced by Volunteer Fire Departments, and that includes Jasper Highlands.  As a matter of fact, all of the small communities in Marion County are served by local Volunteer Fire Departments.
JHVFD is fortunate to have a brand new, state of the art fire hall building filled with top notch fire trucks and equipment.  The Department is staffed by a small core of Volunteers that include 4 EMS qualified professional firefighters with many years of experience (1 paramedic, 2 EMTs, and 1 EMR).  Volunteer Ken Donnan has recently completed a battery of State level EMR courses qualifying him as our 4th medically trained firefighter.  Six of our members will complete a lengthy State of Tennessee Basic Firefighting Course this spring, certifying them as base level Fire Fighters, which means our Department will be one of the most capable in the County.  Our Volunteer Fire Fighters bring a rich diversity to the department that includes engineers, sales managers, Defense contractors, insurance executives, military personnel, IRS officials, brewery owners, fleet managers, electricians, and the list goes on.
We are in need of more JHVFD Volunteers to help protect our mountain and our beautiful new homes.  Please consider joining.  We will train you.  No person is tasked with more than he can physically handle or desires.  Tasks that we face and train for, include firefighting, pump operations, hose management, radio operations, salvage operations, search and rescue, traffic control, truck driving, administration, hydrant operations, ground cover and forest fire operations, and much, much more.
We are not spring chickens up here, but we have a lot of life experience, maturity, and common sense.  Add excellent equipment and training, and JHFD is a force to be reckoned with.  Generally, volunteer training hours are 4-hour morning blocks every other Saturday with an occasional 1-hour monthly meeting.  The camaraderie is terrific, and the Group is fun!  We would love to have you join the Team!  Thank you and stay safe!
RD Johnson
Volunteer Fire Fighter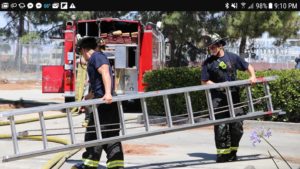 Want to join the Team?  Please contact Assistant Chief Cliff Lowrance (423.309.2842) or email clifflowrance@yahoo.com.  You can also talk to any Jasper Highlands fire fighter and they would be happy to take your information, share with you meeting and training times, and show you the fire department.